Oil-fired steam boilers can generally use light diesel oil, heavy oil, and various environmentally friendly oils as fuel. It is widely used in hospitals, schools, textile factories, clothing factories, large supermarkets, garment factories, printing and dyeing factories, hotels, canteens, restaurants, food factories, beverage factories, bean products factories, meat products factories, canneries, wineries , Pharmaceutical factories, packaging factories, building materials factories, paint factories, swimming pools and other enterprises and institutions.
WNS type oil-fired steam boiler is a new type of boiler developed by ZOZEN. All products of this type of furnace are delivered in their entirety to ensure that the boiler can be quickly installed at the user's site. Except for water supply, gas supply and electrical connection accessories, no other building structures And special installation procedures, a series of inspection and commissioning work have been performed before the boiler leaves the factory to ensure the quality of the boiler before leaving the factory. This type of boiler is mainly composed of the boiler body, connecting flue, burner, soda system, meters, energy saver, and condenser and so on. The combustion is clean, the emissions are pollution-free, the operation is convenient, and the output is sufficient.
The thermal efficiency of a 10-ton diesel steam boiler is 7MW, and its combustion heat value is 42.42Mj / kg. The general efficiency of a ZOZEN 10-ton diesel steam boiler can reach 90%. The fuel consumption of a 10-ton diesel steam boiler is 3600s * 7MW / 42.42Mj. / kg / 90% = 6600kg.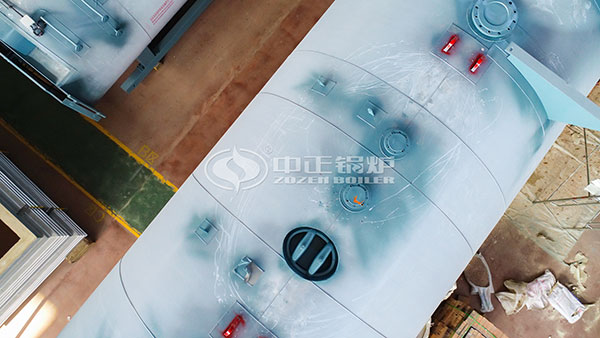 WNS boiler has the following advantages:
1. This series of boilers leave the factory as a whole and are easy to transport and install.
2. The boiler adopts corrugated furnace tube and threaded smoke pipe, which has good heat exchange effect and is conducive to expansion.
3. Combustion equipment adopts imported burners, which can realize fully automatic control of combustion.
4. The boiler is equipped with automatic water supply, water level and overpressure alarm devices, which can operate safely and effectively.
5. The boiler is equipped with a condenser, which can effectively reduce the tail gas temperature and improve the boiler's operating thermal efficiency.