As a renewable energy source, biomass fuel is mostly agricultural and forestry waste. Not only can it be seen everywhere, but it will pollute the environment without treatment. Through the tests of relevant departments, the gas discharge of the biomass boiler is 1.3g per cubic meter, and the content of sulfur and nitrogen gas is 80mg, which meets the national first-class standard. The environmental protection effect is outstanding.
Biofuels can not only reduce costs, but also reduce environmental pollution. Straw fuel is a kind of biofuel. It uses straw fuel pellet machine to make sawdust, corn stalk, peanut shell, straw, cotton firewood stalk, branch, edible fungus waste and cow dung into high-density, combustible and high-quality pellets. Biomass fuel boilers can not only treat waste, but also reduce fuel costs, zero carbon emissions, and produce new environmentally friendly energy, and therefore have received widespread attention.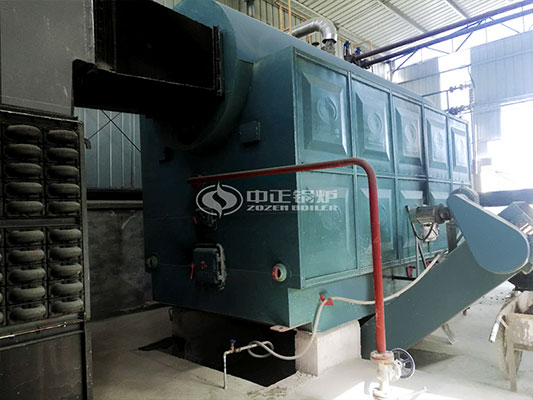 Factors that affect your boiler price
Some clients are urgent to know the price and they immediately ask us "what's the cost of 8 ton biomass steam boiler". Well, we have no idea too. Actually there are many factors that might affect the boiler price. First and most important, we need to know exactly about its technical parameters, such as rated capacity, rated pressure, fuel, steam temperature, etc. Fuels are the essential point determining its operating cost. Some clients prefer coal fuel for boilers because there are cheap and rich coal resource in their countries, like in India, Indonesia, Vietnam, etc. Some clients tend to purchase biomass fired boiler even a little expensive than other fuels because of the government policy. Anyway, you can choose whatever depend the actual requirement and we can meet your need.
In addition, the auxiliaries are also crucial, which not only influence the final operating efficiency, but also take account of a big proportion of the whole boiler price. Usually the main auxiliaries include burner, economizer, water treatment device, valves and instruments, superheater, deaerator, air preheater, etc. ZOZEN can provide you with full set of boiler proper and auxiliaries.
Except for the above factors, the shipping cost, installation fee, maintenance and repairing cost (might need during its running) and some others should be taken into consideration when you write a new boiler purchasing budget. So if you have a demand for industrial boilers, please contact us to let us provide you with suitable solutions and quotations.