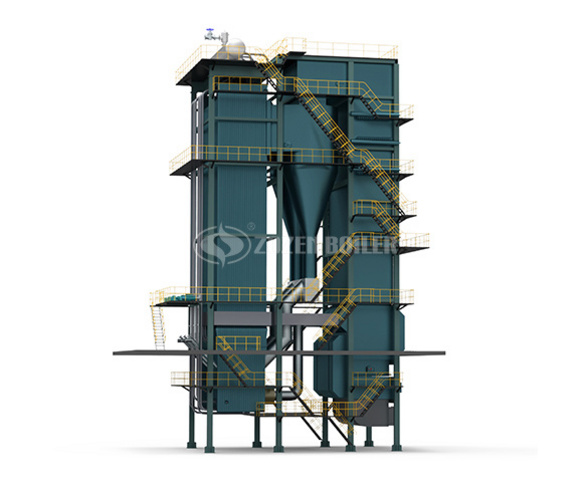 Capacity: 35 – 75 t/h
Pressure: 1.25 – 5.3 Mpa
Temperature: 194 – 485 ℃
Fuel: Bituminous coal, anthracite, meagre coal, lignite, gangue, waste, sludge
Industries: Chemical, food, tobacco, textile, printing and dyeing, feed, medicine, building material, wine, rubber, hospital
Product Description
DHX series cluidized bed furnace boiler is a new mature high-efficiency and low-pollution clean coal technology with energy conservation and environment protection. CFB is called "clean combustion technology" due to their outstanding performances in efficiency, energy-conservation, and low-pollution and low emission of carbon. The CFB coal fired industrial steam boiler is designed with proven technology that it has good corrosion resistance, wide range of applicable coals, high desulfurization efficiency and other characteristics and ensures the stable operation under 30% load to full load.
Technical Advantages
Extensive Combustion Adaptability
The DHX steam boiler with CFB makes the newly developed coal particles fully mix with the developed coal particles, making the newly developed coal particles rapidly rise to the ignition temperature and burn.Therefore, all kinds of coal can be burned stably and efficiently. Almost all fuels, such as bituminous coal, lean coal, anthracite, petroleum coke, can be burned in CFB boilers, and can achieve stable combustion at 30% rated load.
High Efficiency
The fundamental difference between CFB boiler and other types of boiler lies in the combustion system, the thermal efficiency of CFB can reach more than 86%. Effectively reduce SOX and NOX emissions to meet environmental standards.
It is easy to realize the comprehensive utilization of ash and slag.
CFB technology allows coal to burn well enough to have a low carbon content in the ash. As a result, the ash is easy to reuse synthetically, such as for signs that can be used directly in cement and building materials.