25 tph gas-fired boilers have been regarded as larger capacity boilers. Common fuels include natural gas, liquefied gas, and coke oven gas. Many people know that if the operating costs of a 25-ton condensing gas boiler and a 25-ton biomass-fired boiler of the same capacity are compared, the operating cost of gas-fired boiler equipment must be higher, and the boiler that accounts for the largest proportion of the operating cost of the boiler is the boiler Fuel cost, then what is the fuel cost of 25T gas boiler for 1 hour.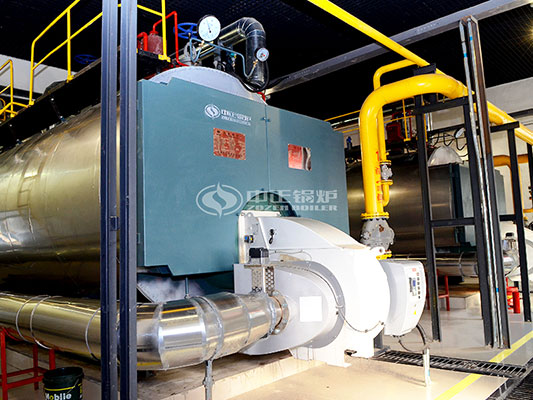 This involves the gas consumption of a 25 ton gas fired boiler: the rated evaporation of the boiler is 25 tons per hour, the thermal efficiency is 93.2%, the heating value of natural gas is 35.438MJ / nm3, the radiation heating area is 30.2m2, and the convection heating area is 187.4 square meters, the heating area of the economizer is 126.86 square meters. When operating at full load, the natural gas fuel consumption is 1875m3 / h, when the boiler load is 70% -100% of the full load, the most energy-saving. Gas consumption per hour for gas-fired boilers = thermal power of the boiler / calorific value of natural gas / boiler efficiency, the gas consumption of a 25-ton gas boiler per hour is about 1875m3, the price of natural gas is about 3.8 yuan / m3, then the fuel cost per hour is 3.8 Yuan / m3 * 1875m3 = 7125 Yuan.
Type of Boiler
Thermal Capacity
Thermal Efficiency
Fuel Consumption(Kg/h)
Consumption
Fuel Calorific Value

1 Ton of Consumes Fuel

Oil Fired Boiler
25t/h
88-92%
Light oil
1700
10200

68kg

Heavy oil
1750
9800-12000

70kg

Biomass Fired Boiler
80%
Biomass
5312.5
3500

212.5kg
As a boiler manufacturing enterprise with R & D and innovation strength, since the day of its birth, it has condensed the wisdom and energy of Zhongzheng people. The products of Zhongzheng Boiler Manufacturers cover gas boilers, coal-fired boilers, biomass boilers, thermal oil boilers, and more than 400 types of boilers meet the needs of various lines. Customers cover all industries around the world. In the past 10 years, there have been more than 12,630 customer cases. Zhongzheng Boiler provides customers with a full range of high-quality services such as project technical consultation, scheme production, and installation guidance.