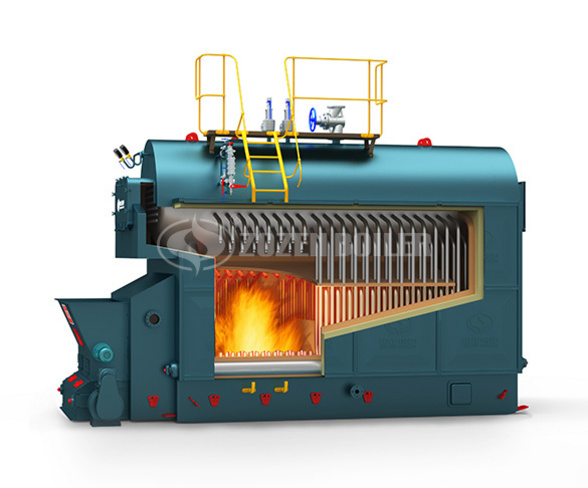 Capacity: 1.4 – 14 MW
Pressure: 1.0 – 1.6 Mpa
Temperature: 115 / 70 ℃
Fuel: Biomass molding granules, wood chip, corn cob, palm shell
Industries: Heating, hotels, schools, hospitals
Product Description
Biomass industrial boiler is a kind of biomass forming energy (biomass pellet or biomass moulding arg, abbreviated BMF) as the fuel of the boiler, can be divided into biomass, biomass power generation boiler steam boiler, hot water boiler and biomass, biomass organic heat carrier boiler.Biomass energy has a very wide range of raw materials, as long as it is through photosynthesis wood idle material, such as rice husk, sunflower shell, sorghum stalk, corn stover, bean stalk, etc., high temperature and high pressure molding, with special agencies pressure pillars after pellet fuel, in the boiler manufacture, can generate enough heat, its produce slag can still as potash supply crops.
Technical Advantages
Automatic Control System
The control system adopts high brightness, full Chinese display, with famous PLC control system as the central control unit;Exchange information with industrial hot water boiler user through man-machine dialogue to realize automatic operation.
Environmental Emissions
The ash produced by biomass boiler combustion accounts for about 1.5% of the fuel. In order to facilitate ash removal, the back of the boiler is arranged with a screw slag extracter to achieve continuous ash removal.A dust collector is arranged in the flue of the boiler tail to ensure that the smoke emission meets the requirements of environmental protection.
Combustion Process
The fuel is fed into the furnace by the screw feeder, where it is gradually preheated by high temperature flue gas and primary wind, dried, ignited and burned, during which a large number of volatiles are separated out and the combustion is intense.The high temperature flue gas generated after combustion enters the convection flue through the furnace for heat exchange, and then enters the dust collector for purification. Finally, it is discharged to complete the whole combustion and heat transfer process.The ungasified side of the fuel moves to the back of the grate until it burns out, and a small amount of ash ends up in the scupper at the back of the grate.